Moderators: Cthulhudrew, OldDawg
Goblin Girl
Posts: 240
Joined: Sat Dec 10, 2016 1:11 pm
Gender: female
Location: Goblin Hole
I found this really cool map of the Flanaess on DevianArt and thought I'd share it here.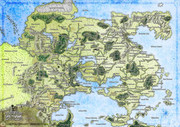 https://www.deviantart.com/art/Map-of-F ... -742660903
♥
♥
♥
♥
♥
In affectus veritá.
---
Dragon Turtle
Posts: 18913
Joined: Thu May 22, 2008 7:32 pm
Gender: male
Location: Norway
Contact:
That is a really nice map!
Thanks for sharing
-Havard
---
Giant Space Hamster
Posts: 24027
Joined: Sun Jun 15, 2008 3:52 pm
Gender: male
Location: London UK
Contact:
I've not heard of Etherne Of Zula before, but that's an impressive map.

I bet the FGS would like to see that too.
---
Ogre
Posts: 239
Joined: Mon Dec 14, 2009 10:31 pm
Gender: male
Location: Cape May
Contact:
I gotta say ... that's a very nice rendition!
When I clicked on it, I immediately noticed "Eastern Grolth" and "Western "Grolth", right by the Bandit Kingdoms.
I can't help but wonder if that's a part of his personal campaign, or not. Anyone ever heard of it? I couldn't find it on Google in a few seconds, but, I'm not with my main library to look it up.

Oh! I can post on dA and ask him! I think I will!
---
Black Dragon
Posts: 3307
Joined: Fri Apr 03, 2009 7:14 pm
Gender: male
There are definitely some custom elements. For example, the Plains of the Paynims became the Plains of the Dainyms here.
---
Ogre
Posts: 296
Joined: Sun Aug 10, 2014 5:37 pm
Gender: male
Location: Dresden, Germany
Some of the place names seem to have been misread - Sultinate of Zeif, Loppola, Histivin, Kro Kerlep, Eru-Jovar and Knudjc are spelled differently, IIRC. But it is a nice map, judging from the graphics. Apparently a french artist - if you follow the link down left on the map:
https://jeuxetfeerie.org/
---