Walter Velez
Biography
(courtesy of his agent, Jill Bauman*)
Jill Bauman wrote:About Walter Velez
Walter Velez was born in the Spanish Harlem section of New York City. He attended the High School of Art and Design. He later attended the School of Visual Arts to study Anatomy, Illustration and Graphic Design. One of his teachers was the late Burne Hogarth who created the Tarzan comic strip from 1937-1950 and was the author of a number of anatomy books for artists.

After finishing his school, Walter traveled to Europe to study Painting, Sculpture and Art History. Upon returning to the United States, he worked as an Art director and Graphic Designer at various design studios and advertising agencies. He then decided to embark upon a career in illustration. He has also exhibited paintings and illustrations in Europe, Central and South America, the Caribbean as well as the United States.

Walter has done illustration work for most of the major book and gaming companies. He has been long known for his cover art for such popular series as "Thieves World" & "Myth" series by Robert Asprin and the "Ebenezum" series, "Wuntor" series,

and "The Cineverse Cycle" series by Craig Shaw Gardner. Walter has produced many games and books for TSR as well. He has also applied his multi-faceted talents for trading cards for the "Goosebumps" series for the Topps company and a series of "Dune" trading cards as well.

In the early 80's he worked with Random house to create several "Star Wars" books that were licensed from George Lucas.

Walter consistently turns out colorful, well-composed and wonderfully light-hearted interpretations of the books he has been commissioned to illustrate. His 'visual signature" is often a witty interpretation; always well thought out and rendered with a sure hand.
Mystara Connection
Walter Velez was hired by TSR in the mid-1990s on a freelance basis. He did six paintings each for the
Karameikos: Kingdom of Adventure
and
Glantri: Kingdom of Magic
sets (1994 and 1995 respectively), which were reproduced as beautiful full page illustrations. According to Jill Bauman, "when Walter was assigned the Karameikos and other games, all we were given was a written description about the scenes that he was to illustrate. Walter didn't know anything about the game. He just used his own imagination and style to produce these wonderful paintings."**
Perhaps his most iconic work for Mystara came with the cover of the Savage Coast novel,
The Black Vessel
, in 1996 - by which time the Mystara line had been abandoned. His works also appear on the covers of numerous TSR novels, including the First Quest novel Rogues to Riches, which takes place in Norwold.
Karameikos: Kingdom of Adventure, 1994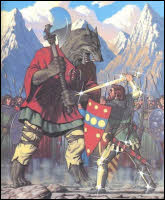 Karameikos: Kingdom of Adventure, page 9 wrote:The Traladaran hero Halav, his magical bronze armour glowing, engages in a final battle with the leader of the Beast-Men. This piece is rendered in the New Karameikan style of art, stressing a realistic approach to portrayal and scene, as well as a focus on active subject matter. Compare this art with the piece depicting the same subject on page 6.
The comparison piece shows the same scene rendered by artist Eric Hotz.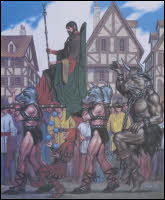 Karameikos: Kingdom of Adventure, page 33 wrote:A traditional Traladaran holiday in Karameikos, Beast's Day (the 1st of Felmont) is marked by processions, festivals, and celebrations. The scene above shows Aleksyev Nikelnevich being borne on a litter carried by participants dressed up as a defeated beast-men, with a (presumably) charmed minotaur bringing up the rear.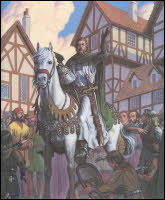 Karameikos: Kingdom of Adventure, page 37 wrote:In this work by the royal portrait artist, a young Duke Stefan accepts the surrender of Traladaran nobles after their failed Marilenev Rebellion. The piece created a small scandal when released, as the artist used a young Lady Magda Marilenev as the model for the blonde woman near the rear of the horse.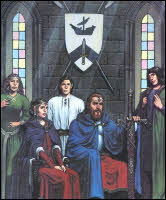 Karameikos: Kingdom of Adventure, page 54 wrote:This royal portrait of the Karameikos family was painted in 1006, shortly before the wedding of Princess Adriana and Devon Hyraksos. From left to right are Adriana, Queen Olivia, Prince Valen, King Stefan, and Prince Justin.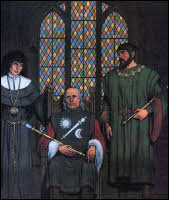 Karameikos: Kingdom of Adventure, page 67 wrote:The Church of Karameikos is led by the venerable Patriarch of Mirros, Olliver Jowett (seated center), who is aptly aided by his assistant Magdel (left). Jowett and Magdel are moderates, offsetting the Thyatian support of the less tolerant Alfric Oderbry (right). Oderbry enjoys the support of Lord Desmond Kelvin II (not pictured).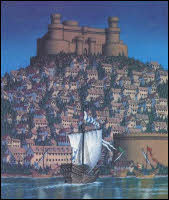 Karameikos: Kingdom of Adventure, page 127 wrote:This depiction of Mirros was commissioned by the Thyatian Emperor. The assigned artist never made it west of Rugalov, and this piece of art tends to exaggerate on certain details (such as the size of King Stefan's Castle and its height above the surrounding territory). However, it does successfully capture the feel of Karameikos as a wild, powerful, and strong nation.
This picture was used again - uncredited - on the cover of Joshuan's Almanac.
Glantri: Kingdom of Magic, 1995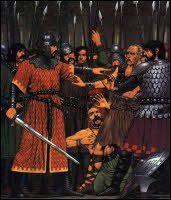 Glantri: Kingdom of Magic, page 14 wrote:Alphatian commander Halzunthram quails before the victorious Alexander Glantri, following a surprise attack. Glantri held him captive in the Tower of Sighs for several years before allowing the disgraced commander to return to his country in shame.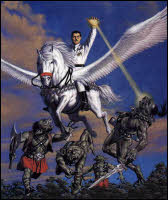 Glantri: Kingdom of Magic, page 17 wrote:Astride his pegasus, Adelfeder, Prince Jaggar von Drachenfels personally leads the Grand Army of Glantri as his troops drive the humanoid forces back to the Great Crater during the war with Alphatia.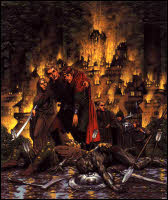 Glantri: Kingdom of Magic, page 44 wrote:Well-known elf artist Douala Volaeth portrays the plight of her people in this all-too-common scene: the aftermath of another vicious raid on the elves of Erewan.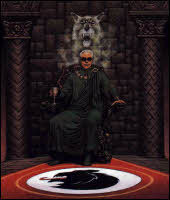 Glantri: Kingdom of Magic, page 57 wrote:In his throne room at Morlay, Prince Malachie du Marais contemplates his realm's slow but steady descent into darkness. The White Wolf knows enough to consider very carefully any action against the forces of evil - a responsibility he is loath to force upon another.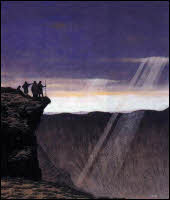 Glantri: Kingdom of Magic, page 61 wrote:A contingent of explorers, sent by the Council of Princes, arrives at the Great Crater in 1007 - the first humans to lay eyes upon the devastation wrought by the Wrath of the Immortals. All but one of these adventurers fell victim to the forces of humanoids, already pouring in from the Broken Lands.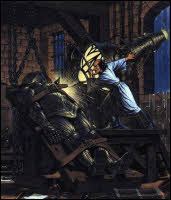 Glantri: Kingdom of Magic, page 101 wrote:A young Rolf von Graustein, in his Ritterburg laboratory, begins his first attempt to infuse energy into a magical construct. The Alchemist soon had so many animated creatures roaming the halls of the Drachenfels siege that then Prince Morgaithe had to reprimand him for his overzealous passion for his craft.
Rogues to Riches, 1995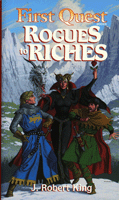 [insert captions/descriptions and commentary]
The Black Vessel, 1996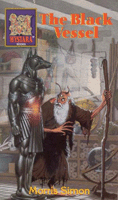 The painting shows an inheritor mage examining an ancient hutaakan statue.
Links
http://www.waltervelezart.com/
- Walter Velez: Painter/Illustrator/Graphic Designer
http://www.jillbauman.com/
- Jill Bauman, illustrator/designer - Art of the Mysterious & Fantastic (Walter Velez's agent)
* The biography comes from an eBay listing of Walter Velez's paintings.
** E-mail correspondence, 10th September 2008.