Played around a bit with map-making in 3d. Here is my first attemp:
In the front you can see the County of Hattias, further back central Thyatis and the Altan Tepes Mountains in the background.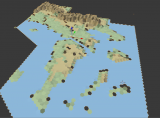 If anybody wants the 3d-file (obj-format), just drop me a note.
The map and the 3d-object are generated automaticly from a map of thorf.