Official maps have given us two rather different palettes to work with for underground maps. The first came in GAZ10 with the Lower Broken Lands map, while the second appeared in GAZ13's Shadowlands maps. While some features of these maps are compatible, others are a little problematic. It would be best to merge these into a single palette for use with updated (and newly developed) underground maps.
I propose that we keep the colours for the compatible terrain types (fungus forests, jungles and swamps; underground hills and mountains) and make a selection between those present in different colours on both maps (solid rock, caves/broken lands). What to do with the deserts, which were labelled as "volcanic sand dunes" in GAZ10 and "desert" in GAZ13, and the "mud flats" (GAZ10) and "mud" (GAZ13) also needs to be decided - whether to merge one or both categories and choose one colour for each, or to keep these distinctions and define the differences.
I have prepared two variant maps to illustrate the result of merging palettes. Here they are alongside their standard replicas for comparison.
Replica of GAZ10's Lower Broken Lands map, 8 miles per hex
by Thorf, May 2009
and
Updated variant using GAZ13 colours, 8 miles per hex
by Thorf, May 2009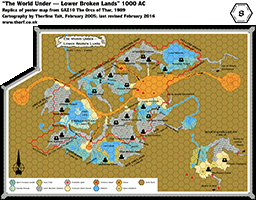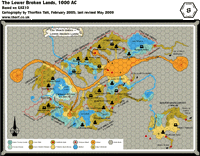 Replica of GAZ13's Shadowlands map, 8 miles per hex
by Thorf, May 2009
and
Updated variant using GAZ10 colours, 8 miles per hex
by Thorf, May 2009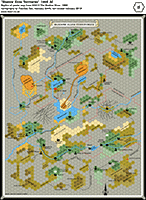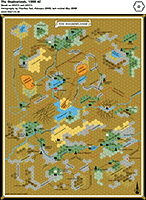 At first glance the difference from what we're used to seeing may be quite jarring.
There don't seem to be any obvious problems with the Lower Broken Lands map using predominantly GAZ13 colours, but the Shadowlands map has a clear conflict between the solid rock colour and underground mountains. This is not surprising, since GAZ10's solid rock colour was almost identical to the overland mountains colour, and GAZ13's underground mountains are only a little darker than their overland counterparts. This problem could be side-stepped a little by adding cave borders to the map. (The final updated map will definitely have cave borders back in.)
Any comments or ideas? Which do you think is more acceptable? How could we make either of them better?