Sind, 8 miles per hex by Thorf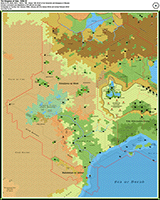 Click on the thumbnails to view these maps' pages in the Atlas of Mystara, where you can get the full resolution maps.
If you have any comments, corrections, or suggestions for things to add to the map, please post them here.
Sources
: GAZ14
The Atruaghin Clans
(1991). Also X4
Master of the Desert Nomads
(1983), X5
Temple of Death
(1983), X6
Quagmire
(1984),
Dragon
Magazine Issue 169,
Champions of Mystara
(1993).
References
Sind - map development discussion thread at the Wizards MMB. (Unfortunately defunct, but see the Wayback Machine for a partial copy.)
Thanks to
: Giampaolo Agosta (Agathokles), Håvard Faanes (Havard), Geoff Gander (Seer of Yhog), Hervé Musseau (Andaire), Giovanni Paniccia (Arcanda), Patrick Sullivan, Andrew Theisen (Cthulhudrew)