Gulf of Hule, 8 miles per hex by Thorf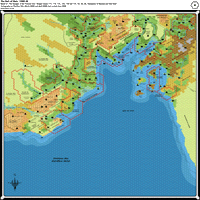 Click on the thumbnails to view these maps' pages in the Atlas of Mystara, where you can get the full resolution maps.
If you have any comments, corrections, or suggestions for things to add to the map, please post them here.
Sources
: "The Voyages of the Princess Ark" in
Dragon
Issues 171, 172, 174, 175, 176 and 177. Also X4
Master of the Desert Nomads
, X5
Temple of Death
, X9
The Savage Coast
,
Champions of Mystara
(1993) and
Red Steel
(1995).
References
Thorf's Secret Project: Stage One - the original Atlas of Mystara thread at the Wizards MMB. The Dragon replica maps appeared as follows: Slagovich in post 186; Southern Hule in post 189; the Savage Baronies in post 196, post 207 and post 209; Robrenn in post 265. Post 202 showed the updated map of Southern Hule and the City States, while post 211 has the updated Savage Baronies map, and post 212 has the combined version of all the Gulf of Hule maps. Post 589 contains the updated map, but there is no discussion about it at that point.
Thanks to
: Michele (LoZompatore), Andrew Theisen (Cthulhudrew), Wilhelm