Maps
Replica of TM1, 8 miles per hex
by Thorf, August 2008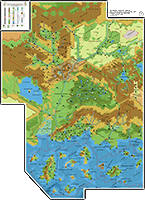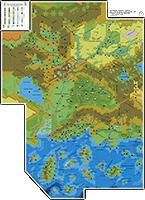 Replica of TM2, 8 miles per hex
by Thorf, March 2009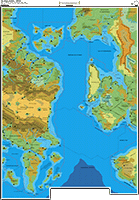 Combined replica of TM1 and TM2, 8 miles per hex
by Thorf, March 2009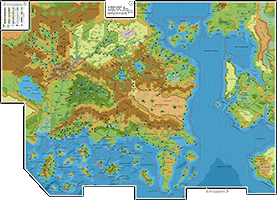 Comments
Sources
:
GAZ1 The Grand Duchy of Karameikos
(1987),
GAZ2 The Emirates of Ylaruam
(1987),
GAZ3 The Principalities of Glantri
(1987),
GAZ4 The Kingdom of Ierendi
(1987),
GAZ5 The Elves of Alfheim
(1988),
GAZ6 The Dwarves of Rockhome
(1988),
GAZ7 The Northern Reaches
(1988),
GAZ8 The Five Shires
(1988),
GAZ9 The Minrothad Guilds
(1988), GAZ10
The Orcs of Thar
(1989), GAZ11
The Republic of Darokin
(1989), GAZ12
The Golden Khan of Ethengar
(1989), GAZ13
The Shadow Elves
(1990), GAZ14
The Atruaghin Clans
(1991),
Dawn of the Emperors
(1989), TM1
The Western Countries
(1989), TM2
The Eastern Countries
(1989) and PC3
The Sea People
(1990). Also PC1
Tall Tales of the Wee Folk
(1989), PC4
Night Howlers
(1992),
Wrath of the Immortals
(1992) and
Champions of Mystara
(1993).
Notes on TM1
Notes on TM2
Fonts - Country/Province names: 15.7-15.9 Feinen Bold; Major Sea names (seas, major bodies of water): 15.7 Feinen Bold; Minor Sea names (minor seas, bays, lakes): 12.7-13 Feinen Italic; Island/Dominion names: 12.7 Feinen Regular; Terrain Features (mountains, hills, fjords, reefs, marshes, plains, mountain passes, deserts, etc): 11.1-11.3 Feinen Bold; Rivers: 9.6-9.7 Feinen Italic; Fauna: 9.7 Feinen Regular; Settlements and Minor Terrain Features: 7.9-8 Feinen Bold. All labels in all capitals (except for a single battlefield label).
Spelling Errors - Sandstone Ciffs (should be Sandstone Cliffs).
To Do List
Finish making replica of TM2.

Create a combined replica of TM1 and TM2. (And watch my computer explode from the stress.)

Write notes on all the featured areas, comparing them with other sources.
Update all the individual country maps.
Create an updated trail map of the Known World area.
References