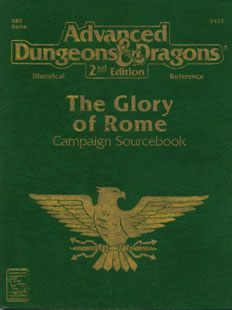 What do you guys think of this sourcebook? Some say it is the best in the entire series.
As with most of this series, I feel like the approach of downplaying the AD&D fantasy tropes and shifting the game towards a more historically accurate campaign style was a mistake. I would have liked to go for a more fantastical type of campaign set in a magical version of Ancient Rome. That is just my personal preference though.
I do think there are many interesting aspects of the Roman world that it could be interesting to explore in a game. Gladiator fights. Life among the legions. Exploration of exotic lands beyond the borders of the Empire.
I could see this book working quite well in combination with others in the series such as
HR6 Age of Heroes
(Ancient Greece) or
HR3 The Celts Campaign Sourcebook
. For Scandinavia in that era,
HR 1 Vikings
might be of some use, but since proper Viking ships had not yet been developed untill centuries after the fall of the Roman Empire, that culture would be very different. There was contact between the Scandinavian peoples and the people of Rome however and this had significant influence on Iron Age Scandinavia.
As with all of these books,
Deities & Demigods
or
Legends & Lore
is a must have supplement.
Green Ronin had a book called Eternal Rome in its
Mystic Vistas Series
. Steve Jackson Games' Imperial Rome for GURPS is another sourcebook that can be useful for such a campaign.
What sort of campaign would you find interesting placed in Ancient Rome? What do you think about
HR5 The Glory of Rome
? Are there other game sourcebooks or Dragon/Dungeon articles that could be useful for a campaign like this?
-Havard