Dragon Turtle
Posts: 19090
Joined: Thu May 22, 2008 7:32 pm
Gender: male
Location: Norway
Contact:
Can Boot Hill add anything to a game using the d20 system or other RPG?

-Havard
---
Gnoll
Posts: 115
Joined: Mon Jun 02, 2008 10:23 pm
Gender: male
Location: Chicago = Greyhawk
Contact:
My knee-jerk response would be "no" because there isn't really any background to go with Boot Hill. The game is mostly a miniatures rules set, so the whole pamphlet is just a bunch of rules. On the other hand, the "first shot" chart is great for gunfights and (thanks to Han Solo) I've used those rules in my scifi campaigns as well. In that light you may find some good stuff in Boot Hill, but it won't be historical background stuff IMO.
Finarvyn
Earl of Stone Creek, C&C Society
OD&D Discussion
player Since 1975
I'm partly responsible for the S&W White Box
---
Cranky Grognard
Posts: 683
Joined: Thu May 22, 2008 8:11 pm
Gender: male
Location: Acererak's Rumpus Room
Here's a pic of the contents page from the Boot Hill boxed set. The appendices provide some western flavor. I would say that the original BH boxed set could definitely provide some flavor for a d20 past game. Of course that type of flavor could also be gotten from any of a number of non RPG resources.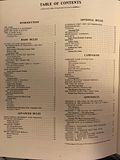 Fifth registered member, bitches!

If the Unapproachable East was so unapproachable, how did anyone get there?
---