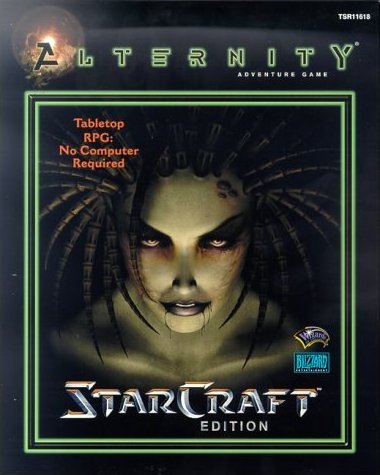 While WotC published several AD&D 2nd Edition and D&D 3E books for
Diablo
and a separate RPG line was released for
World of Warcraft
, I only know about one RPG supplement for the StarCraft setting.
The Alternity Star Craft edition, boxed set was released by WotC in 200 and used the Alterntiy RPG system. The boxed set included three adventure booklets, 96 pages total. One web enhancement also existed for the boxed set, an equipment list which can be found
here
. More details on the Alternity Starcraft Edition boxed set at the Starcraft Wiki
here
.
Were other RPG supplements released for this setting?
Were there plans to convert StarCraft to d20 Modern, similar to how Diablo was brought to D&D 3E after its initial release?
What RPG would you use to run a StarCraft campaign? Do you think the setting has potential to make for a fun RPG setting?
Do you think there is potential to cross StarCraft over with Diablo or World of Warcraft, similar to how Heroes of the Storm allows for characters from the different games to battle?
-Havard
See also: StarCraft RPG, World of Warcraft RPG, Diablo RPG, Alternity RPG Settings