Planar adventures focus on cosmic entities and divine beings but there are tiny creatures too—the kind that go unnoticed until it's too late! Today
EN5ider
considers
dimensional afflictions
, sicknesses that go beyond the Material Plane.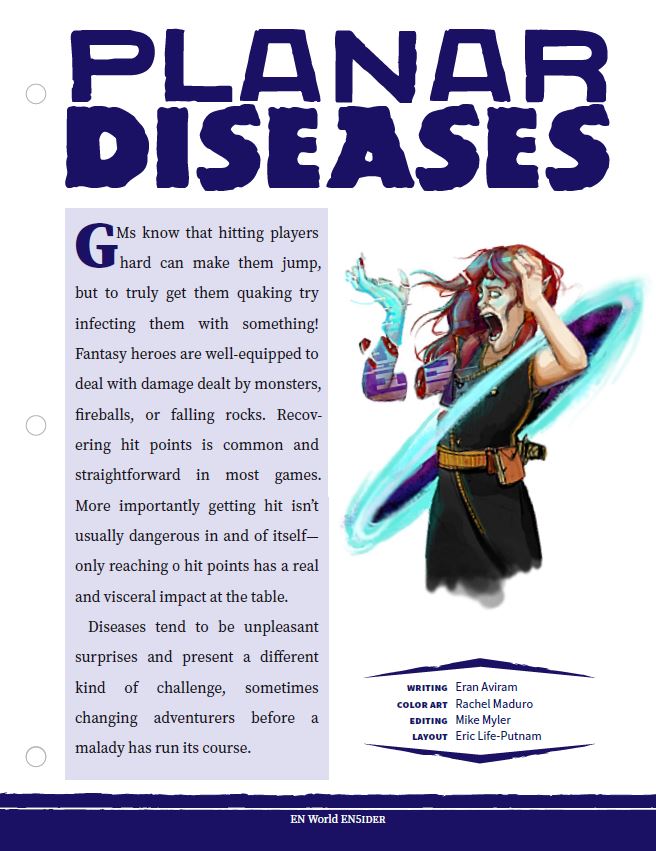 Lately on EN5ider:
#272. Planar Diseases.
By the time adventurers are hopping between dimensions they are largely beyond fearing virulence, equipped with healing magics that make diseases an easily ignored threat. No longer! This article explores afflictions that can strike wayward planar travelers, sicknesses that extend beyond the confines of the realms material. Adverse ascension affects those who have overly exposed themselves to divine energies, fractured rift disorder can result from the use of dimensional portals, fey longing influences the minds of mortals too fond of the Feywild, and both the pastrasites of Limbo and spectral thought-worms of the Astral Plane can eat away the very memories of a creature to change history itself! Brilliantly written by Eran Aviram; wonderfully illustrated by Rachel Maduro.
#271. Mini-Adventure: Tree of Truth.
For centuries the Tree of Truth has answered vexing questions of genealogy and paternity, but usurpers annoyed by this fail safe mechanism have gradually surrounded the magically protected tree with a vicious garden to prevent access to the truth. Most of those who try to trespass perish among the weeds, leaving their precious cargoes where they fall. Can the players reach the sacred tree and escape with the knowledge they need to avert a cataclysm? This mini-adventure for 3 to 5 characters of 3rd-5th level was written by John Gorkowski, illustrated by Savage Mojo and using maps by Dyson Logos!
#270. Villain Spotlight: Skanafel the Devourer.
Once a mighty and noble planetar warrior, the monster that is now Skanafel was captured during a raid into the Abyss by the forces of a powerful demon lord. Dragged into the depths of that wicked domain, he was subjected to centuries of torment and mutilation—his wings destroyed, his face torn from his skull, and his mind and soul twisted and warped by vile demonic craft into an abomination of rage, destruction, and unending hatred for all he once was. Skanafel the Devourer has become a nightmare for the forces of law and good, a demonstration that even the highest of beings can be broken, corrupted, and remade into a fiendish weapon. By Joe Crow; illustrated by Mike Tenebrae.
#269. ZEITGEIST #6 - Revelations from the Mouth of a Madman: Part 3.
This final installment of
Revelations from the Mouth of a Mad Man
brings the
ZEITGEIST
adventure path's 6th arc to a close. In this module the party work with (or around) the Beran military and navy in order to contend with Karch, a sizable city of gnolls near where a foothold must be taken to raid the former lair of the dragon Gradiax—now home to both an underground factory complex constructing duplicants and the gnome Tinker, the insane inventor that built
the colossus
! Throw in unnaturally rough weather, a massive nautical battle, some dungeon delving, and a steam-augmented dragon and you've got yourself an epic adventure! This article also includes some new weapons, technological items
(demolition charges, anyone?)
and a half dozen new magic items.
#268. Mini-Adventure: Head Games.
Head Games
begins as a halfling runs through the village square with a furious orc hot on her heels. Her pursuer claims she stole something from him but Lellian insists that he gave her a sapphire pendant as a gift. Regardless of how the adventurers deal with the matter however, this orc is only one problem that she's brought onto everyone's heads! As a budding enchantress Lellian has recklessly toyed with local's minds, using
charm person
to acquire treasures without getting her hands dirty. While the halfling has several legitimate friends in the community her wanton use of persuasive magic has drawn some dangerous monsters into the area—including a tribe of hobgoblins that don't care how many people die before they get their vengeance! This mini-adventure by Charlie Brooks is best suited for PCs of 4th level. Illustrated by Savage Mojo and
featuring cartography by Dyson Logos
.