Introduction
I often think that the original TSR hex maps must have been done using multiple sheets of transparent paper, because they seem to have an internal logic as to what symbols appear on top of what. There are also lots of cases of elements being misaligned.
As it happens, this is precisely how maps are made in the computer, whether you use Photoshop, Illustrator, or another program altogether. In this short tutorial I will introduce the concept of layers, and outline the system I have devised for my maps.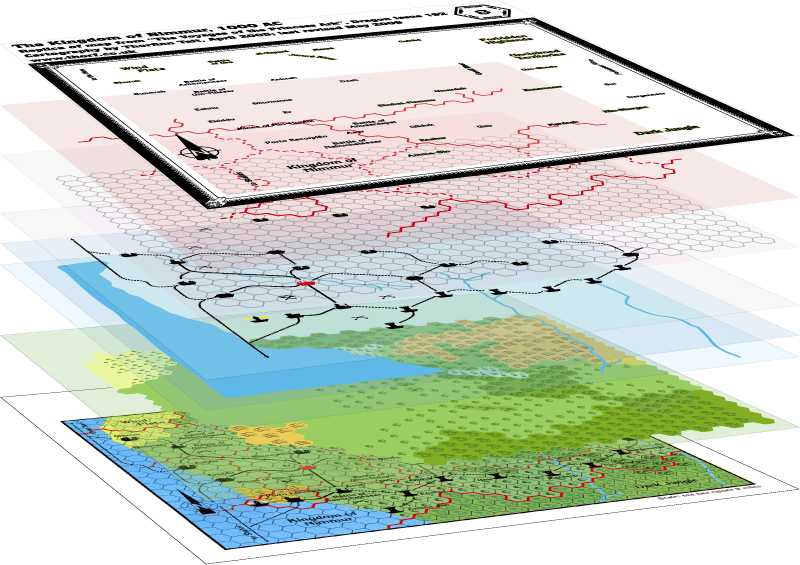 All the layers used to make an overland hex map.
Map Layers
I have come up with an eight-layer system for making hex maps.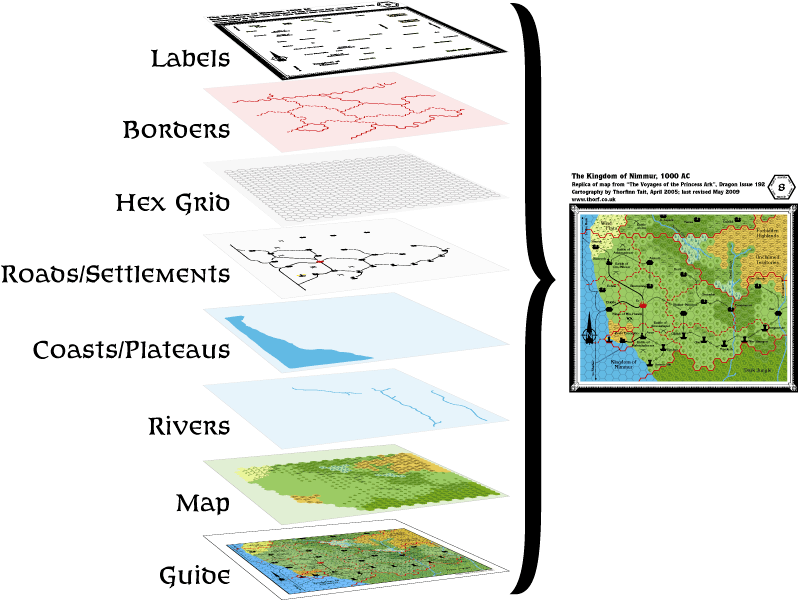 Labels - all text, map labels, compass roses, scale markers and borders go on this layer, on top of everything else.
Borders - country and dominion borders go on this layer, so that they overlay the hex grid.
Hex Grid - the home of the grid overlay which forms the basis of the map. The grey hex grid is set to "multiply" transparency at 75% opacity so that it merges nicely into the colours underneath.
Roads/Settlements - roads, trails and shipping trails, as well as settlements, battlefields, and other terrain feature icons are placed here to prevent them from being obscured by coasts and rivers.
Coasts/Plateaus - all the coasts and lakes along with plateaus and other non-symbol terrain features go on this layer. Masking map tiles are also sometimes placed here when drawing plateaus.
Rivers - all rivers and other such line-based water features go on this layer.
Map - this layer is for all the basic hexes that make up the bulk of any map.
Guide - the bottom layer, usually empty in my map PDFs. This is where I place scans and other source images which I want to trace.
That's basically it. If you make sure the elements are on the right layers, everything should fall into place nicely.
There are some exceptions to these rules. For example, on some maps where a border crosses a hex tile, we want to make sure that the settlement icon on that tile doesn't get obscured by the border, so we put the settlement icon on the Labels layer. Similarly, markers for rapids and waterfalls usually go on the Roads/Settlements layer, but can be placed on the Labels layer if necessary.
Working with Layers
The most important technique for working with layers is turning them on and off. A good example of this is aligning a guide image to your map: by turning off all layers except Guide and Hex Grid, it becomes reasonably easy to resize any guide images to the same proportions as the map. And of course it's usually best to leave the Map layer turned off while tracing from the Guide layer to any layer above.
Finally, I have found that it's best to draw replica maps from the top layer down to the bottom. Sticking to this order makes it easier to see where you are, and leaves the potentially memory-hogging map tiles to last. If you do encounter memory problems, it's always possible to export/copy and paste a layer to another document, work on it there, then import/copy and paste it back in. This is especially easy in Illustrator if you tick the "Paste remembers layers" option in the Layers panel options and then use CTRL F or CTRL B to paste in front or paste behind (these latter functions paste objects to the exact position they were copied or cut from - even if you paste them into another image).
In Conclusion
That's all I can think of for now. I hope some of you find it useful (or just interesting).
If you have any questions about this topic, please feel free to ask in this thread. I'm sure there are various aspects of working with layers that I haven't thought to mention.
I will update this first post periodically with new info as it comes up.