In looking through the
Poor Wizard's Almanac AC 1012
I saw in the table of 'Average Seasonal Temperatures on page 172 that Specularum's altitude is given as 150 feet (above sea level), and it is noted
"River may flood in spring"
.
With this potential for floods, I wonder if that may have been another reason for the installation of the Sea Gates? They may provide some form of flood defemce for the harbour (We discussed the Sea Gates in
this topic
).
Thinking about Specularum's altitude, I also looked at the city description in the
Karameikos: Kingdom of Adventure
boxset. This includes:
"The city sprawls over a number of small, rolling hillocks that cradle a large lake known as Mirror Bay... One hill rises higher than the others and is known simply as "The Hill". Atop this dominant feature sits the king's stronghold."
"The king's castle perches on the highest hill of Mirros, atop a 15-foot-high eathen mound with steeply anngled sides..."
I started wondering about the lay of the land. I'm not aware of anyone discussing the elevation(s) of the city before so I put together a very "quick-and-dirty" sketch to outline what I thought might be the placement of the hillocks. This rough sketch is below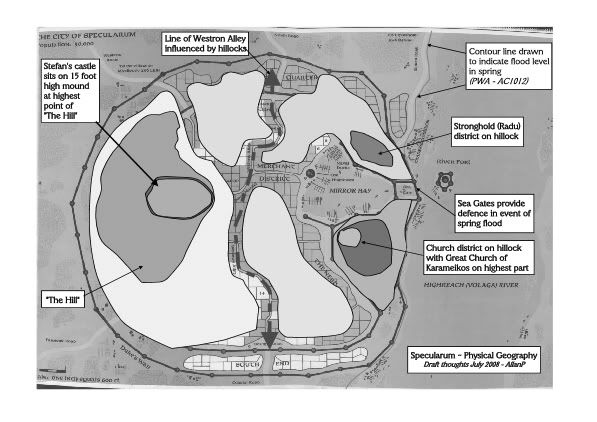 A larger version can be found
here
.
To summarise:
I drew a "contour line" parallel to the Duke's/King's Road to indicate the probale potential flood level;
The colours on my sketch don't directly relate to specific heights - I just used different colours to get a feel for different elevations;
I assumed that the two original walled encampments that are now the Stronghold (Radu) and Church districts were also probabl;y on hillocks;
As the Westron Alley appears to be an original major north-south route in the city area (per GAZ1), I have inducated how the surrounding hillocks may influencedthe path of this;
I am no geographer/cartographer, so my sketch may be a bit inconsistent. Perhaps someone with more knowledge/skill could enbhance my initial outline ideas? Maybe a 3D/perspective view of the city layout?
As usual, I welcome all feedback on these rambling thoughts,