EN5ider
's popular
Over the Next Hill
series returns with an article that takes a historical approach to understanding the rule, culture, and nuances of a medieval lord's estate!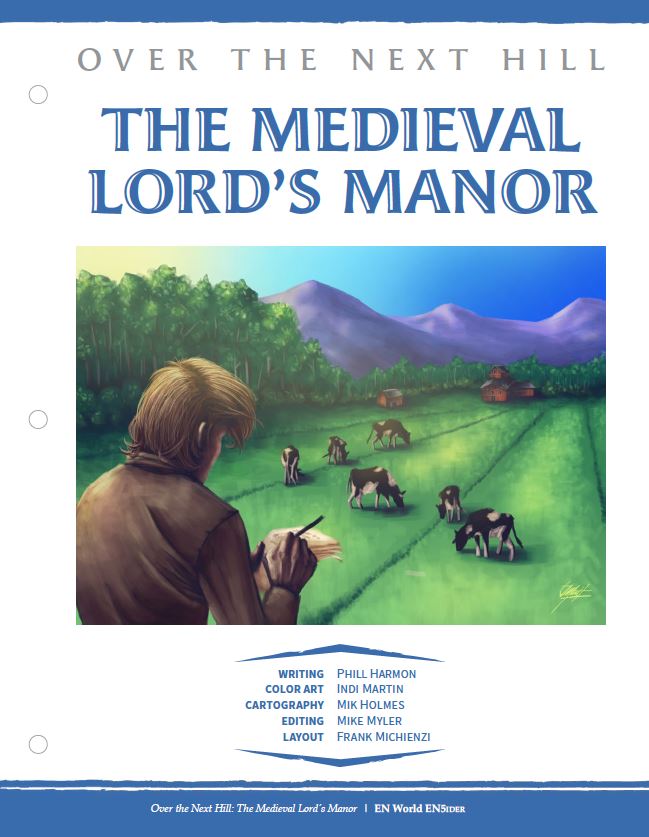 This is hands-down
the

best deal

for D&D 5E anywhere
so if you've never been a patron, give it a try! The lowest tier is $1 per article but you can cap your monthly contributions to only $1
and
as a member you get instant access to the extensive archive of 300 articles ranging from adventures to spells, monsters, classes, and anything else you might need for your
D&D 5E
game!
Lately on EN5ider:
#304 Over the Next Hill: The Medieval Lord's Manor.
Baronies and fiefdoms are a staple of medieval fantasy, playing a role in many of our games and worlds—today's article takes a historical approach to understanding the barony of Alexander Ouer Middleton, providing a perfect example of the usual ruler, subordinates, and culture to be found in a medieval estate. Included are statistics for the baron (CR 3), his reeve (CR ¼), and the local miller (CR ½) as well as rumors and plot hooks alongside a custom map of the Middleton lands! Written by Phill Harmon; illustrated by Indi Martin; cartography by Mik Holmes.
#303. Monstrous Menagerie: Unique Dragons.
The
Monstrous Menagerie
series is back with a variety of new dragons to enrich your
D&D 5E
game! This article includes the fey dragon template with Teyladin the Reclaimer (a young green fey dragon) and the memory dragon template (used for the Librarian of Orban Tur, an ancient silver memory dragon). Written by Ben Green; illustrated by Alba Palacio and Ellis Goodson.
#302. Intriguing Organizations: House of the Reclaimed Soul.
This
Intriguing Organization
takes in the truly repentant and tries to lead them to find redemption. Despite the horrorscape around them these ex-clerics, warlocks, and other fools tricked into serving fiends during their time as mortals strive to do good following their deaths while purging themselves of the evils within. This article includes details for five NPCs as well as statistics for penitents (spellcasters that have devoted themselves to masochistic purges of sin). Written by Catherine Evans; illustrated by Marcel Budde and Claudio Pozas.
#301. The Not-So-Lonely Road.
Make your next overland trip more interesting and really engage adventurers with the world in just a few dice rolls! This article takes a look upon our collective past, using historical information and parallels to help GMs create realistic NPC encounters outside of major settlements (with examples), providing opportunities to roleplay, pass information via highway gossip, and even trade and refresh supplies. Written by Phill Harmon; illustrated by Phil Stone.
#300 Mini-Adventure: The Titan Gates.
To commemorate achieving 300 articles we've got an excellent extra special mini-adventure for today: a module that's meant for 11th-12th level play but with a little modification can be used anywhere from 3rd to 16th level. This has not one or two but THREE different maps as PCs face off against giants with portals in their chests, the mystical gateways dragging the adventurers into the dangerous challenges of the Titan Gate Gladiators—those that survive are enshrined in history as champions and gain powerful allies, as well as the ability to rapidly traverse parts of the world thanks to their hard-fought allies. Brilliantly designed by EN5ider luminary Andrew Engelbrite; illustrated by Kevin Shea; maps from Dyson Logos.